Remarkable Ohio … Ohio Historical Marker #62-25 Founders of New Albany (OH)
It is amazing how often we go about our day to day lives and rarely look around at the scenery as we pass by. I am just as guilty as the next person. Always in a rush, in a hurry to get to my next appointment that I never just stop an smell the roses.
Recently I was on my way to an appointment; the air was fresh, the sun was shining and the windows were down. I was stopped at a light, when I noticed it. I actually noticed the world around me and knew I need to stop and investigate further.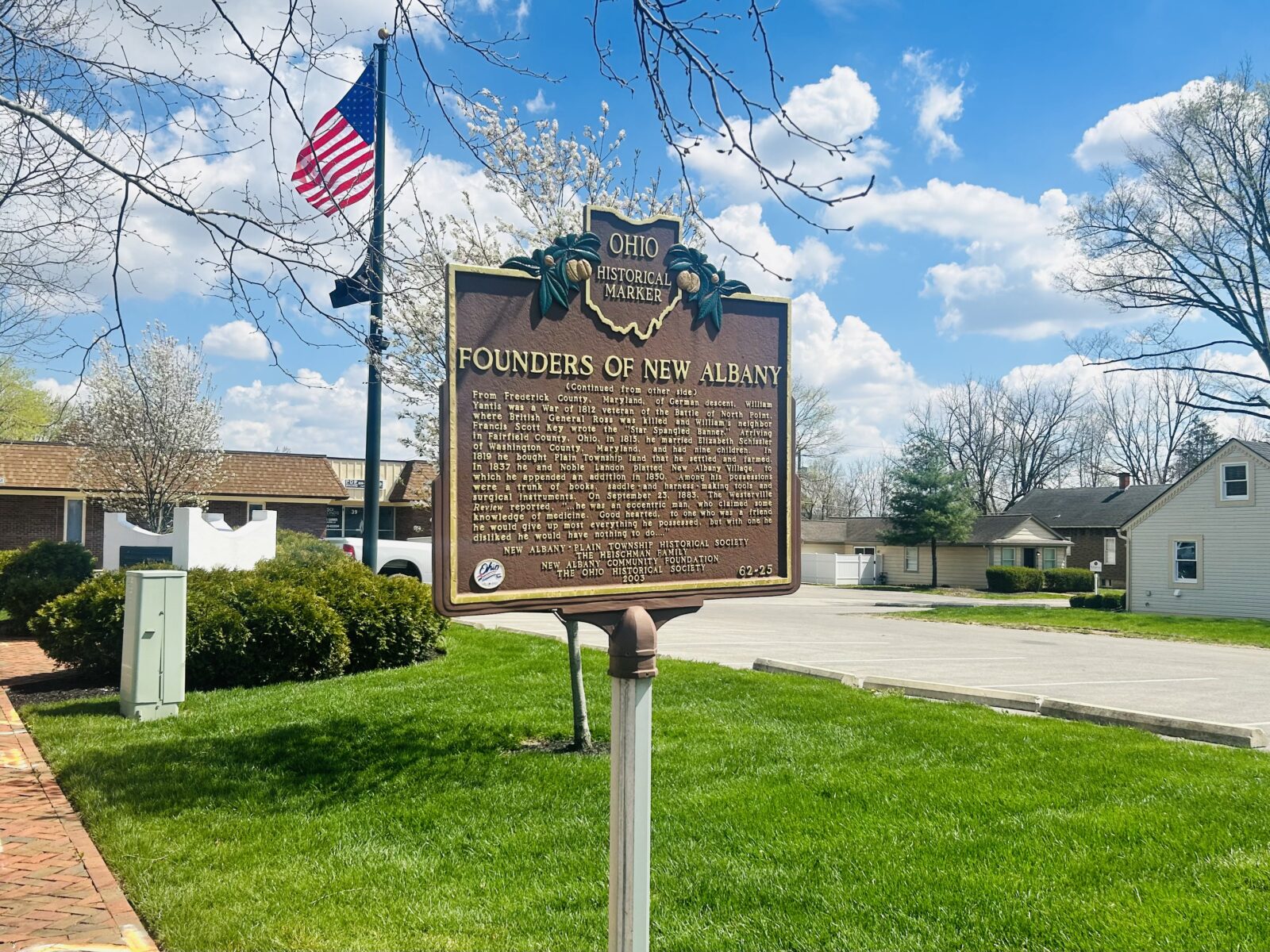 There was a Remarkable Ohio Historical Marker marking the Founders of New Albany (Ohio). Located in the downtown corner streets of New Albany (High and Main Streets), marks where a tavern and inn once stood whose liquor license was obtained by Noble Landon. Noble Landon known as a heavy drinker, was born in Connecticut then migrated to New Albany, Ohio in 1810.
It was here that Landon and William Yantis laid out 50×100 foot lots in New Albany. So what you say.
Yantis, a war of 1812 veteran and his neighbor wrote the Star Spangled Banner. Arriving in Fairfield County, Ohio in 1815, he married and had nine children with his wife. It was here in Plain Township that he settled and farmed land.
In 1837, both he and Landon platted New Albany Village and appended an addition in 1850.
While visiting this site, I enjoyed reading the names of New Albany and Plain Township war Veterans residents.
It is always fun and interesting to read and see all the Remarkable Ohio History. To learn about all 1447 Remarkable Ohio Historical Marker sites, click here.
I think I learned my lesson, I need to keep my windows down and pay more attention to the world around me even when I am late for an appointment.
So, whether you are a huge Ohio history buff or just want to learn more about our great state, be sure to stop and read the Remarkable Ohio Historical Markers as you pass by when traveling.
Love Remarkable Ohio. What remarkable sites have you visited?