During the summer in the Midwest, some days are raining and just blah. It is days like these, I love to spend in my sewing room. I found this pattern awhile back and while I didn't know the fabric that would look great, I knew I wanted to make this quilt.
I especially love this pattern of squares inside squares and the illusions the design would draw. I love the play of the different size squares and the lines. I wasn't sure I needed to purchase fabric for this quilt, and thought I would go through my stash to find the right colors and fabric design. I needed about a yard of each fabric; I found the perfect coordinating blues, greens and yellows. I thought the paisley pattern would add the perfect level of interest that I was looking for.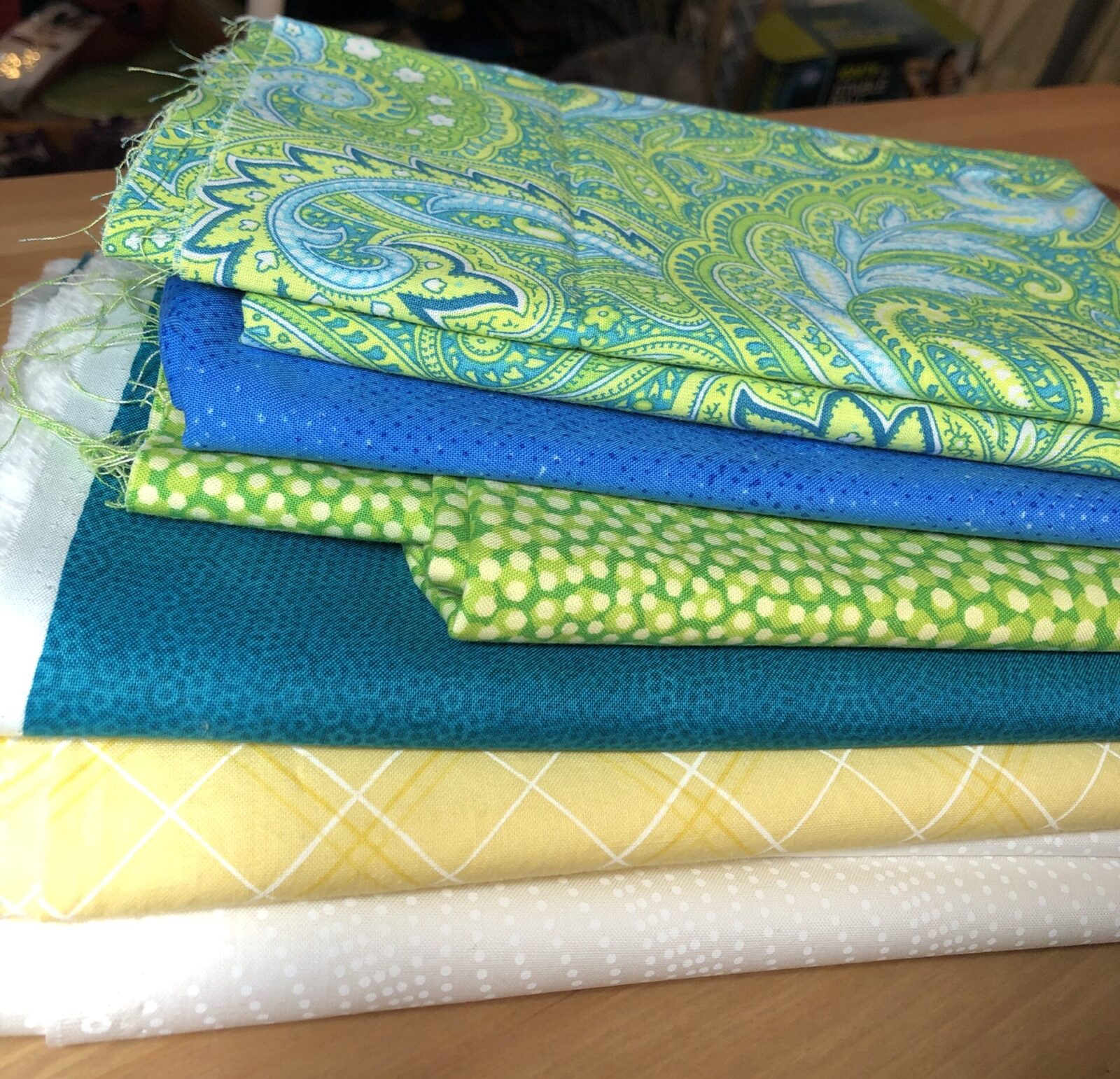 The pattern, titled Off Centered Squares, by Fresh Lemon Quilts can be found here. It is a fun and beginner level pattern. The pattern instructions are easy to follow and once I had all the pieces cut, I put on a good movie, filled my water and started to sew. It was fun using my vision board along the way to get an idea of the final product.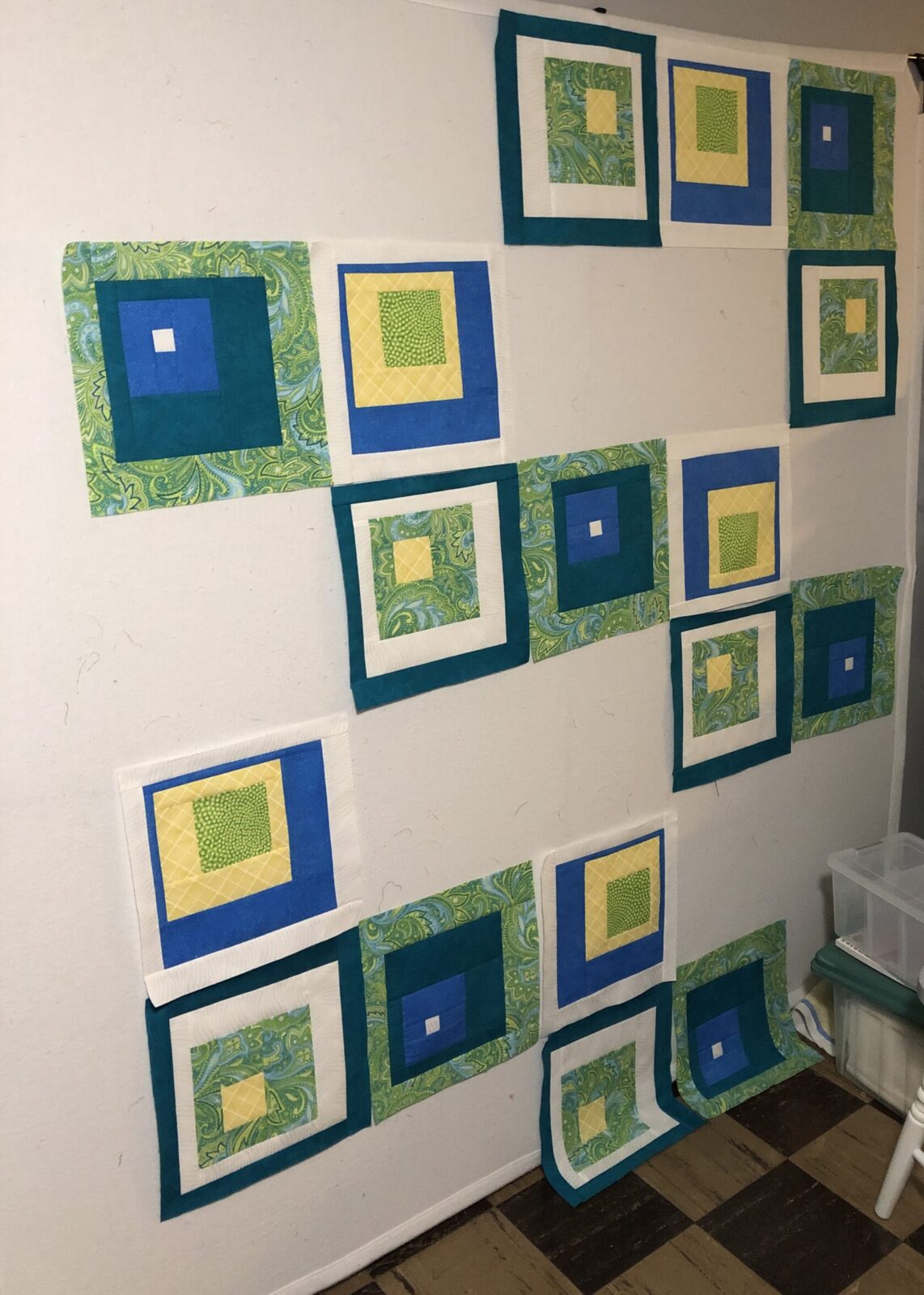 With any quilt block, the design wall / visual board (shown here) is a great Quilting tool that allows you to visualize the layout of your quilt blocks.
This visual board also allows for moving and rearranging blocks that may not look good next to one another or help discover that two of the same fabrics are side by side and should be moved.
Once I decided on this particular layout and my blocks were exactly where I wanted them, the sewing blocks together process was next.
I was able to complete the Quilt top in about a week of evenings. Once I completed the top, I prepared the backing and then delivered to the Quilters. When I take the quilt top to be quilted on the Long Arm machine, I must also choose the thread color and the quilting pantograph design. I wanted something that played well with the linear design element, so looked through their example book. Depending on how busy the quilters are, it may take about a month, maybe longer to get my quilt back. It is always exciting when I get the call from the Quilters telling me my quilt is completed and ready to be picked up.
Once I receive the quilt back, the finishing touches still need to happen. The salvages need cut off and the binding must be sewn. About a week later, I have finished the Quilt: I just love the finished product!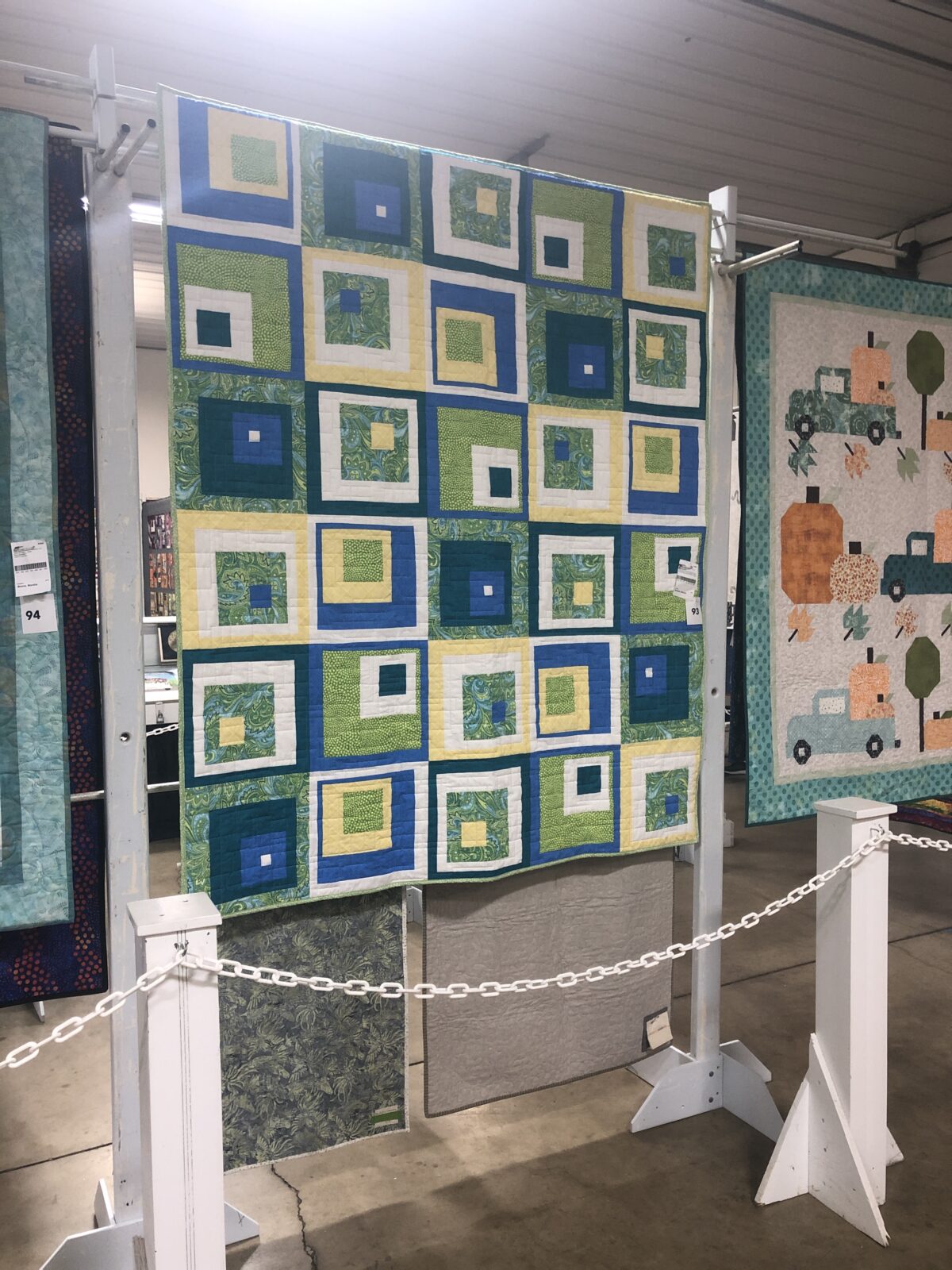 Fun Facts:
Finished Size: 60″ x 73″
Fabric Collection: Scrap Fabric in My Stash
Quilting Pantograph: Maze Pattern
Quilted By: Lady Mumm Designs
Entered in the Franklin County, OH Fair July 2021
Sew on and Sharon the Moments. Happy Quilting.