Rock and Roll Hall of Fame Visit
My family and I visited the Rock and Roll Hall of Fame in Cleveland, OH along Lake Erie recently. It was about a two hours drive northeast of Columbus. We pre-purchased our tickets online on their website here.
We wanted to see all the exhibits and the list of Rock & Roll Hall of Fame Inductees. We were really sure what to expect and were open to seeing everything the Hall of Fame had. The actual building was deceiving, the inside was much larger than it appeared. The triangular shape full of glass showcased the Lake and the surrounding building. It also illuminated the building which was fun.
Overall, we spent about three hours during and tour and could have stayed a little longer, but we were just worn out from all the walking. We started on Level 0, which is home to the Ahmet Ertegun Main Exhibit Hall.
Inside this Exhibit, we learned about stories spanning generations (from Elvis Presley and Chuck Berry to todays upcoming artists) and saw thousands of items on display, including exhibits feature films, videos, interactive kiosks, and reading material and heard plenty of music. We even learned about the Beatles.
Other than the entrance on Level 1, we didn't spend much time on Level 1. After we finished walking the exhibits on Level 0, we next headed to Level 2.
This is where "The Garage" is located; which consists of five main areas where fans can pick up real instruments, learn to play, jam with friends, brand your band with custom merchandise, and check out great gear and instruments from the Museum's collection.
From there we headed to Level 3 to explore the Hall of Fame which features the Inductee Signature Gallery, New Inductee exhibit, and Connor Theater featuring the Power of Rock Experience.
We then moved on up to Level 4 to the state of the art Foster Theatre to watch a legendary rock film from the years. From there, we made our way to Level 5 / 6 for the Legends of Rock to get up close and personal with some Inductees and the learn their stories behind the music they created.
As we concluded our visit of the Rock & Roll Hall of fame, we took a photo to document our experience.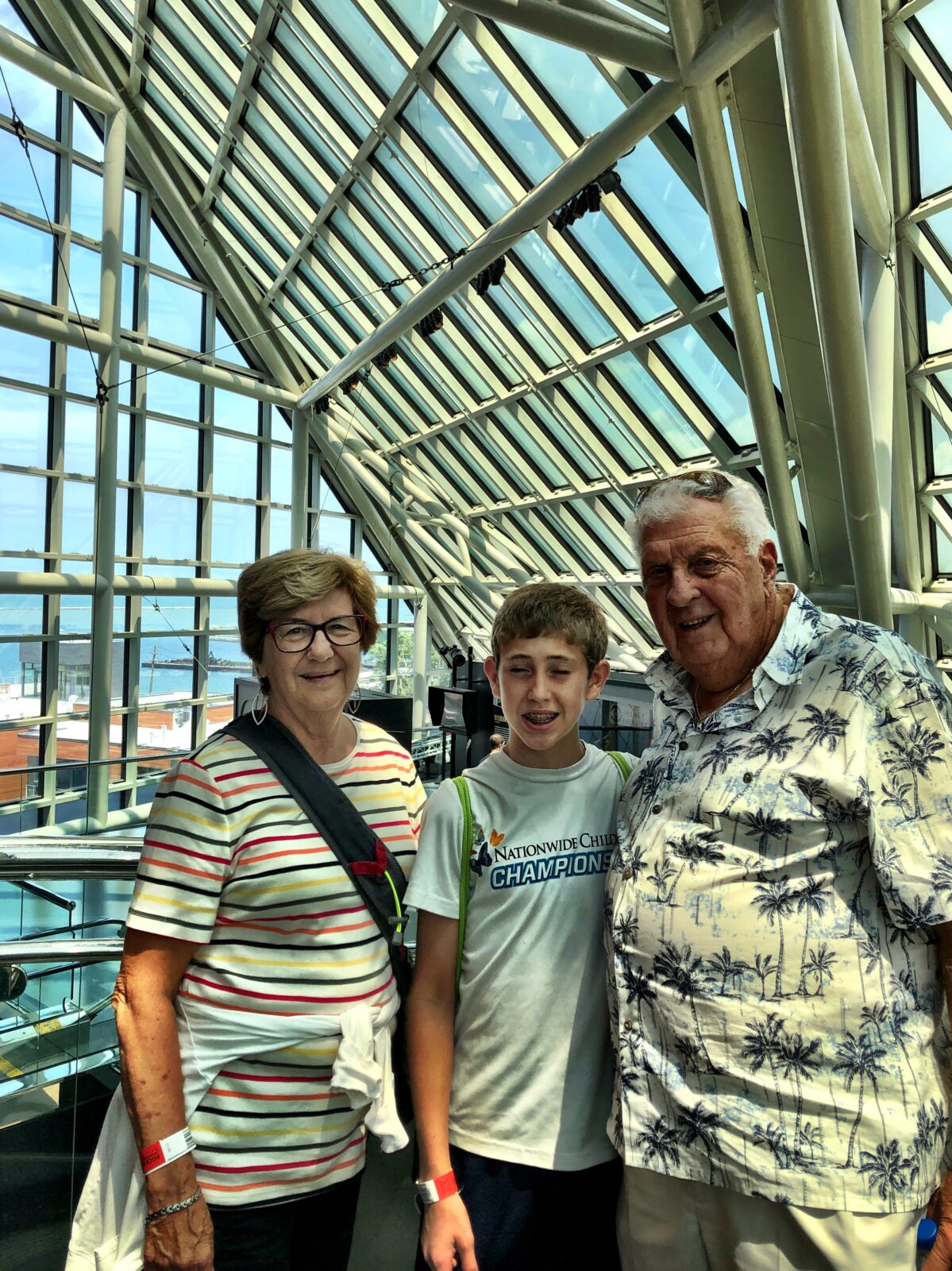 For more information about the Rock & Roll Hall of Fame, exhibits, cost, and hours, visit their website for further details.